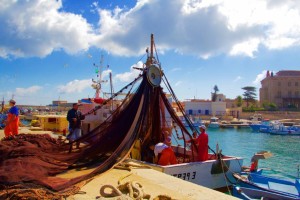 We start back, sitting around the table one of the typical restaurants on the island.
On the menu we find, among the first courses, the "spaghetti with bottarga".
Once served, the intense aroma can only bring us back to the sea, on the profile of the choppy waves lapping Favignana.
What is the bottarga? Someone has called "gold dust".
This typical food of amber color and intense aroma is nothing more than a derivative of egg processing tuna, obviously female, salted, pressed and aged. It gives dishes a flavor that goes well with the subtle tones of fresh tomatoes, chopped parsley and extra virgin olive oil, in generous quantities. There are those who love and those who hate it.
In the shops of the historic center of the Favignana Bottarga of Tuna veins exposed showcased in the form of slats (ovarian sacs intact) or powder, as it were a precious jewel.
And in part it is seen that the average price is around 300.00 € / kg.
The bottarga is an institution on the island, as the Ex Stabilimento Florio Tonnara di Favignana and Formica and the stories of the tuna fishermen.
Yes, because the production of canned fish was once one of the main activities of the island.
Today it is active in one establishment working handcrafted tuna, mostly for laboratories Trapani. The production of Bottarga of Tuna of Favignana, though limited in numbers, is of excellent quality: made with natural processes, has a pasty consistency and savory taste, with notes of the sea. Grated or sliced, it lends itself to the preparation of tartine or as a sauce for pasta dishes with a Mediterranean flavor.
Spaghetti with Bottarga of Tuna of Favignana
A traditional dish that celebrates, in its simplicity, the island's past, fishing, sun and wind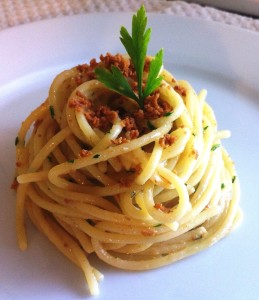 Ingredients (6 persons)
500g Spaghettoni
50g Bottarga of Tuna of Favignana
60g Capers of Favignana
200g Fresh tomatoes
1 clove of red garlic of Nubia
Salt crystals of Mozia
Extra virgin olive oil
Parsley
Gently fry the garlic in plenty of extra virgin olive oil. Pour the tomatoes cut.
Add a teaspoon of Bottarga of Tuna of Favignana, let cook for few seconds on a low flame and then turn off the heat.
Cook the spaghetti in salted water and drain them. Skip the spaghetti in the pan with oil, garlic, tomatoes and add the chopped parsley and capers previously desalted. Garnish with the remaining Bottarga of Tuna of Favignana.
Inevitable a glass of white wine, fresh.
If you look for a cook at home for the preparation of this dish, and to find out other Sicilian specialties during your stay consulted cookok.co