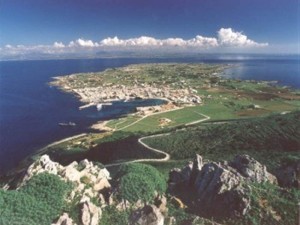 A good reason to spend their vacation on the island of Favignana, in addition to the wonderful landscapes, is his climate that has mild throughout the year.
The archipelago of the Egadi islands is a veritable oasis where the summers are never scorching and winters maintain mild temperatures.
Visitors discover in Favignana a temperate climate because in winter the temperature never drops below 14 ° C, and the summers are mitigated by the sea breezes.
Temperatures range from 14 ° C in the winter period (December / January) to 20 ° C of the spring season (April / May), summer (July) fluctuates around 27 ° C while the autumn (October) around 21 ° C. The average temperature of the year is between 21 ° and 16 ° C.
The rainfall is not abundant and widely distributed in around 50-90 days of rain per year with a peak in the winter season.
The predominant winds are the Maestrale and Scirocco.
The sky is clear for 70% of the days in summer, in winter to 35% in spring to 40% and in the fall to 50%.
The best time to discover the island of Favignana, to enjoy the sea and the hospitality is very long: from mid-April until the end of October, although
the warmth of the winter sun allows you to spend a few days immersed in the tranquility and splendor of nature.
The water temperature in the months of May and October fluctuates around 20 ° C, allowing you to immerse yourself into the sea even in the periods of low season.

Travel Tips: to pack a sweatshirt for summer evenings and a t-shirt for the sunny days of winter!