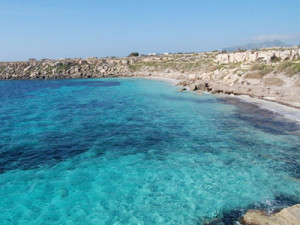 Fine golden sands, crystal clear water: the coast of the island of Favignana can be considered almost unique in the large coastal landscape of Sicily and its islands.
Most of the creeks of Favignana, being the jcoastline jagged  less than Levanzo and Marettimo, can be reached from the ground. The coastline is a succession of bays, coves, sandy beaches or pebbles  and spectacular cliffs.
Among the sandy beaches than worth visiting Cala Azzurra, lovely pool natural turquoise reflexes, and Lido Burrone, bay equipped for families with children, are both easily accessible from the city center along the coastal road with a car, or even better , with bicycles and scooters can be rented easily, or with public transportation.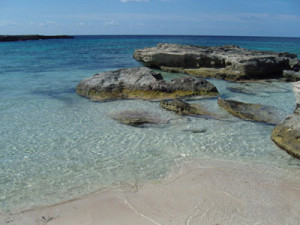 Nearby is the marina of Punta Lunga, where there are a series of small rocky coves. The right compromise between sandy coves and rocky plates is represented by "Calamoni" while Cala Graziosa  is a small secluded cove made ​​of rocks and sand. In the shadow of the hill, St Catherine, near the marina, there is another small sandy bay called Praia: a strip of white sand just a few steps from the center and bounded by the historic walls of the Stabilimento Florio.
Spectacular are the rocky coves of the east, such as Cala Rossa, where tuffaceous rocks plunging into the white sand of the seabed: a theater between natural caves and ancient quarries of tuff in which the sea has changing reflections. Within the network of tunnels are organized fascinated excursions.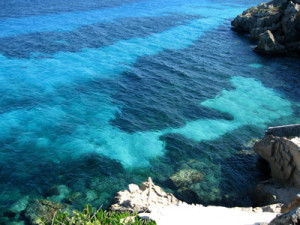 It can be reached by following the coastal road on which, in some places, you can recognize the signs left by the carriages that once transported the tuff to the landing of the tartane, sturdy cargo vessels. A little further on we find the Cala del Bue Marino, which can be reached following a short path that branches off from the main road: a cliff with amazing backdrops that degrade from deep blue to emerald green.
At the foot of the hill St. Catherine, on the opposite side of the marina, enchant the endless shades of blue that assumes the sea near the pebble beach Preveto-Pirreca. To the west there are  Cala Grade and Cala Rotonda, characterized by pebbles and rocky outcrops: rugged scenery and fascinating when you have the illusion of untouched spaces.
In the most extreme of the northwest coast, opposite the island of Levanzo, a more rugged coastline and wild frames Cala Faraglioni, small and charming semi-circular sandy beach. Divers can perform extraordinary experiences of snorkeling and diving to Punta Marsala, the shoal of Toro until wreck lying on the bottom of Cala Marasolo, or in the underwater cave that is located between Cala Rotonda and the reef current and seabed of Punta Fanfalo .